WORKSHOPS FOR YOUTH & HIGH SCHOOL STUDENTS
WORKSHOPS FOR COLLEGES & UNIVERSITIES
WORKSHOPS FOR ORGANIZATIONS
WORKSHOPS FOR UNIONS
WORKSHOPS FOR YOUTH & HIGH SCHOOL STUDENTS 

I currently offer 5 different workshops for teenagers and high school students. I am always happy to work with students and teachers to develop new workshops that engage students on the issues that really matter to them. I've presented these workshops in dozens of public, private, and religious high schools as well as youth detention centers and community-based youth organizations. Feel free to contact me for references or to develop a workshop or series of workshops that's right for your school!

These workshops are high energy, fun, and inspirational. They weave together music, guided discussion, visual exercises, educational games, and more to engage many different learning styles and encourage maximum participation.

Scroll down for the WORKSHOP MENU!
"Evan has music that kids can relate to, a message that can't be ignored, and a delivery that really challenges!"--Colm McGarry, director of Religious Education at Marion High School, Framingham, MA

"Your visit reminded me of what is truly important in this world. Seeing people who
were doing more than writing letters and occasionally writing a check to an
environmental organization really inspired me. Your visit revitalized dormant energy in
me and really made me feel strongly about doing something active about the environment and other problems in society. " --Sam Law, High School sophomore in Ithaca, NY
WORKSHOP MENU: 
YOUTH POWER! ACTIVIST & ORGANIZING SKILLS FOR STUDENTS
Young people have incredible power to make positive changes in their schools and their communities. This workshop / training focuses on the basics of organizing and activism: getting people together to work for good. Working together as a group, we'll identify the root causes of some of the biggest problems we face in the world, and talk about how these broader issues effect us in our immediate lives in school at in our neighborhoods. The rest of the workshop will be tailored to building skills and brainstorming strategies for taking action for social and environmental justice at school, at home, and beyond.
CONNECTING THE DOTS OF CLIMATE JUSTICE
What is climate change and what are it's root causes? How do environmental issues connect with social justice issues like racism, poverty, and discrimination? This workshop goes beyond the basic science of climate change to ask some tough questions about our society as a whole and what needs to change for us to have a liveable and just future.
MUSIC, ART, AND SOCIAL CHANGE
Throughout history, music and art have been integral parts of movements for justice, freedom, and sustainability. This workshop focuses on effective ways to use our visual art, theater, writing, and music to combat injustice and make the world a better place. This discussion-heavy workshop is guided by the participants, but also includes an exciting slide-show featuring historical examples from the U.S. Labor Movement, apartheid in South Africa, the civil rights movement, and more. From hip-hop to mural painting to street theater to dance this presentation has something for youth of all artistic interests.
P OWER TO THE PEDALS: LONG DISTANCE BICYCLE TOURING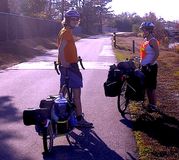 Does the pollution and global warming caused by cars get you down?   
 Ever wish you could just ride your bike into the sunset? This inspirational
 and fun presentation resoundingly shows you that you can! In 2009 I rode a bicycle over 1,600 miles around Florida during the Respect Your Mama Bicycle Tour. We rode from town to town playing music and offering workshops on social justice, climate change, sustainability, bicycle repair, and more! This presentation features an exciting slide show of stories, video, and images from the tour as well as how-to information about long distance bike riding and bike safe ty!
RETHINKING GENDER: LGBTQ ISSUES AND SOCIAL JUSTICE
This workshop creates a safe space for young people to talk about issues of gender and sexuality. How does our society define gender roles? How do we all fit in to those roles or challenge them? How do the expectations placed upon us affect us? What can we do to make our schools, homes, workplaces, and communities safe and empowering for people of all genders and sexualities?